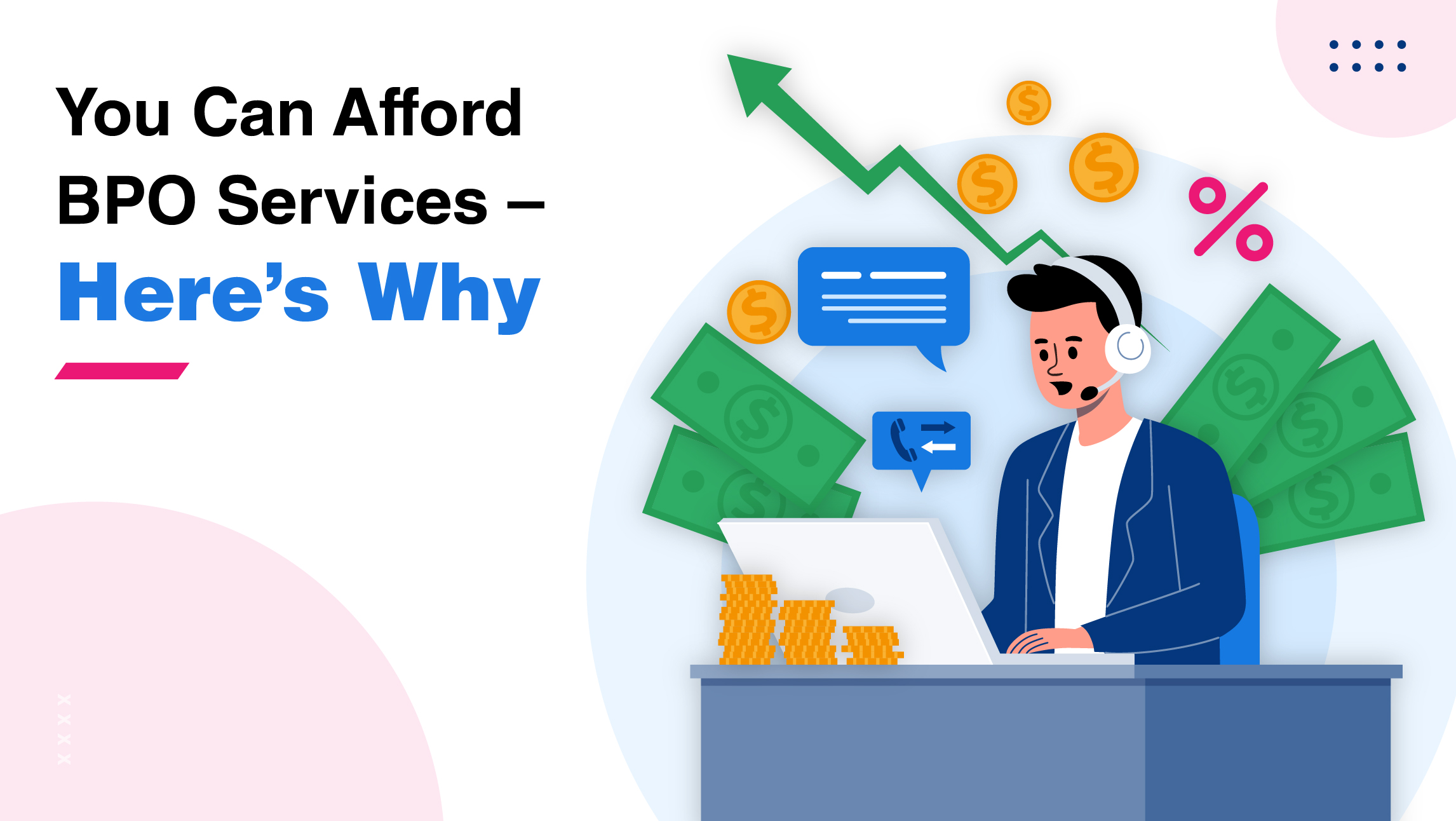 You Can Afford BPO Services – Here's Why
59% companies use BPO services for the specific purpose of cost-cutting. In fact, companies have reported to have saved anywhere from 60% to 90% in their labor costs after outsourcing their processes to nations like India, Philippines, China etc. while improving their business performance and operating models dramatically. Taking these market insights into consideration, you can be rest assured that on hiring BPOs, be it for call centers, IT, market research, accounting, software/web development, data entry or others, you will at the end of the day, 'spend to save'.
However, at times, initial investments associated with hiring BPO services can become a cause of concern for smaller companies. The good news is, it is 100% possible to hire quality services at costs that fit all budgets. In fact, this is one reasons why 83% small companies /
businesses are increasing their outsourcing budget this year. If you are a small company contemplating outsourcing, only to stop at the tracks because of cost concerns, here's why you can let go of all your worries and proceed with confidence…
Providers With Competitive Pricing are Rising –
BPO market is expanding. By 2028, the market is expected to touch around $492.45billion at 10.01% CGAR (2022-2028 forecast period). While it is true that the top 10 players in the global BPO industry currently hold about 60% of market share, the rest is ruled by upcoming, boutique service providers that offer outstanding BPO solutions at very competitive prices. These providers design their solutions to accommodate the interest of small growing businesses strictly in terms of their unique business needs and budget considerations.
Vendors See Competitive Advantage in Prioritizing Scalability and Flexibility –
BPO providers with flexible and scalable service models can help client companies adjust their service requirements according to their fluctuating business needs. This frees the latter from choosing rigid off-the-shelf outsourcing assistance, where they otherwise, end up paying for services in the package that they have absolutely no use of. Choosing vendors that offer various pricing models like pay-per-hour, pay- per-employee, pay-per-task etc. can reduce investment costs dramatically.
At the same time, prioritizing scalability and flexibility gives vendors an edge over competing BPO companies. This is another great reason why you will easily find providers that offer solutions within your budget limits.
Quick Tip – Approach With Planned Objectives –
What are you attempting to achieve through the BPO service? What are the activities that you wish the hired professionals to handle on your behalf? Do you really need to outsource the process at hand or can it be handled in-house at negligible costs?
When you approach BPO service providers with defined objectives, you will have a clear idea of your business needs that can actually benefit from outsourcing and therefore, invest completely in tune with your immediate requirements. With no money spent on unnecessary value
additions, initial investment costs are sure to subside.

Outsourcing non-core functions inherently reduces initial investments –
Companies, irrespective of their volume or market presence, choose to outsource non-core functions so that they can invest undivided attention to core / decision making processes. Human resources, logistics, IT, marketing, customer service and accounting are a few to mention.
While non-core processes like data entry, customer support, payroll processing etc. are indispensable for companies to run smoothly, they are not high-priority and thus, call for less specialized skills in comparison with core functions like product development, strategic planning, research and more. Keeping skill levels and the chosen vendor in consideration, the cost for outsourcing non-core processes becomes very affordable.
Affordable Automation Is Swiftly Blending In –
Robotic Process Automation (RPA), Artificial Intelligence (AI), Chatbots / Virtual Assistants, Document Processing Automation… the list of automation in the world of outsourcing is growing by the day.
Automation in BPOs plays a pivotal role in maximizing efficiency, streamlining processes, reducing errors, improving accuracy and reducing dependence on manual interventions. It also saves time and facilitates process standardization. Given that automation can achieve so much without adding to your cost-per-seat, it is a great way to make BPOs affordable in the short and long run.
BPO Service Providers In Asian Countries Are Anytime More Affordable –
Countries matter when, it to comes making outsourcing affordable. For instance, average annual pay package of a call center executive in Philippines would cost anywherefrom 4000$ to 6000$ and 7000$ to 9000$ for the same in India in sharp contrast with around 40000$ for an equivalent position in the USA. So, it will never be difficult to afford dependable BPO services if you choose vendors in countries like
India, Philippines, China etc.
Quick Tip – Effective Communication With Partner BPOs Directly Reduces Cost to Company –
Establishing clear, regular and optimized communication with partnering BPO services directly reduces chances of errors and rework, thereby, reducing cost to company. These days, proactive BPO services offer a clear-cut road map to cost effective outsourcing which often includes predefined communication guidelines as well.

Government Grants and Support – In many regions, governments are seen to offer grants, subsidies, tax incentives etc. to support automation and subsequent growth of small businesses. Exploring these options can help save significantly in initial investments making BPO services more affordable.
Final Thoughts
As per statistics, 52% small companies regularly outsource processes through firms / agencies. And, all thanks to the availability of flexible, adaptable and customizable services at budget compatible packages, these figures are rising by the day. Proper vendor selection
with judicious off-shore outsourcing while approaching service providers with predetermined objectives, evaluating ROI and considering employment of small-scale automation solutions are proven effective in making BPO services budget-compatible.