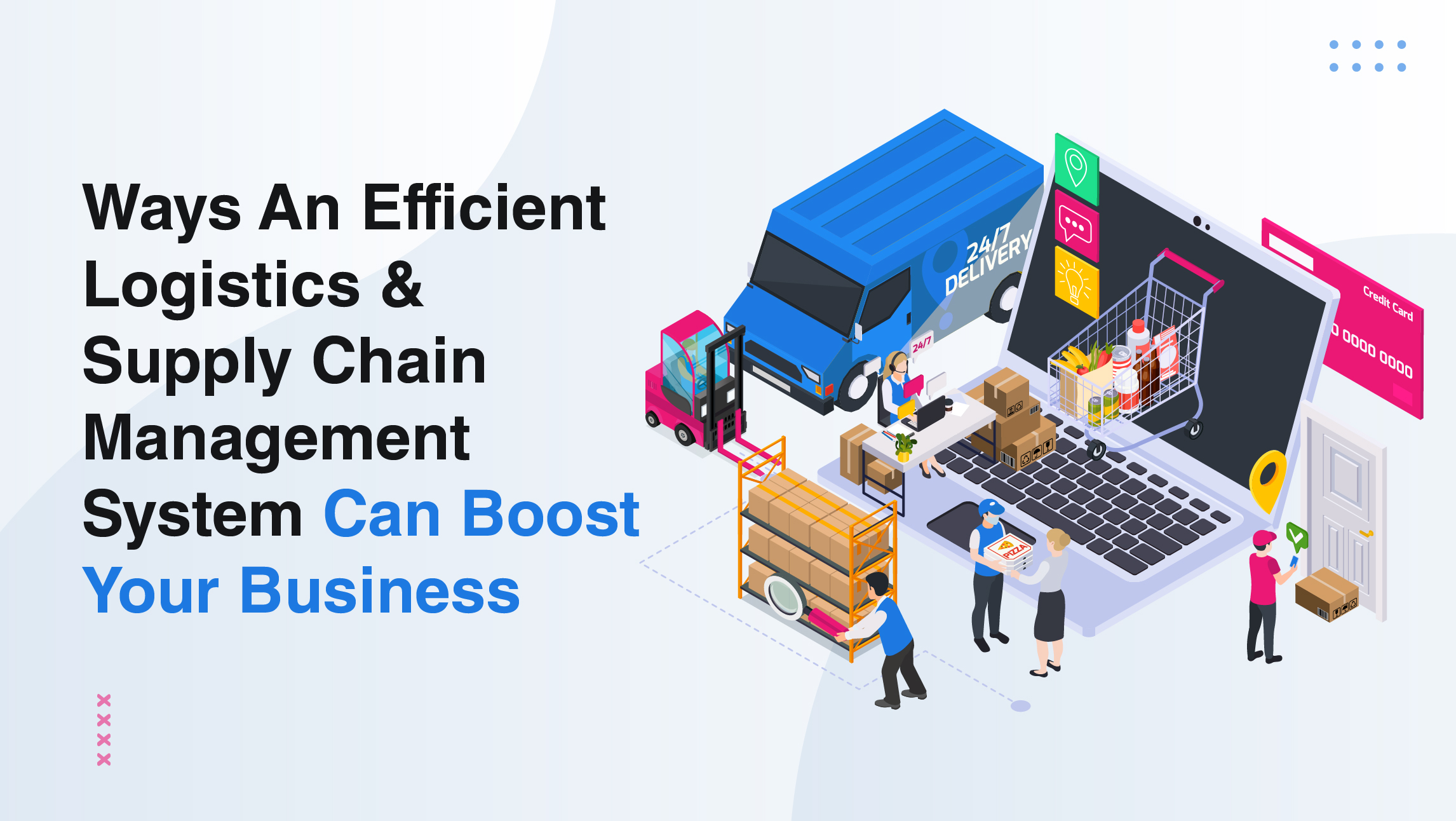 According to a study conducted early last year, around 85% companies are incurring heavy losses owing to outdated or, outright poor business process systems. This includes spreadsheet approach to supply chain as well.

Logistics and supply chain being one of the most important leg that keeps any business relevant and running, it is imperative, following post pandemic market temperament, to have the process upgraded and intelligently automated with efficient Logistics and Supply Chain Management Systems, which, about 54% of the decision makers in these businesses have clearly expressed, is the key to meet SLAs and reduce violations phenomenally.

If you are a small / medium business owner who is still in two-minds about efficient automated logistics and supply chain management systems, here is a list of proven ways in which these systems can boost your business almost immediately.

Automated bird's eye visibility –
Did you know, only 6% of companies have reported to have complete supply chain visibility while the rest either have partial visibility or, none at all!
Visibility is the key to gaining 100% control over your business given that it is the only known way to staying informed about the actions carried out in the core touch points in your supply chain in real-time and that too from anywhere around the world. Opening gateways for complete real time visibility is perhaps, the most sought-after benefit of using efficient supply chain and logistics software solutions.
Optimize costs for real saving and profit boosting –
Did you know, optimizing supply chain costs from 13.2% (current average) to 7.9% can give you an instant 40% saving?
And this is one of those sections of supply chain where manual efforts have failed to display their efficiency, especially after covid-19.
Reducing supply chain costs is one of the primary functions of supply chain management software systems, and they achieve profit goals by,
directly reducing administrative costs and dependence on manpower
optimizing LMD by route planning, fuel optimization, automated vehicle load management etc.
preventive maintenance
KPI monitoring
Keeping track of and reporting expenses at all levels, and more

Freedom from manual error –
Did you know, 67.4% supply chain managers still use excel spreadsheets to collect, store and derive data?
For a growing business it's nothing but invitation to errors, bottlenecks, and expensive rectifications of the same.
Automated supply chain management solutions leave no room for human errors and makes data storage, sorting and access easy and effortless.
Enhance supply chain accuracy –
Supply chain accuracy has everything to do with the prevention of overselling and underselling of products. If you've ever faced a situation
where you sold a product that wasn't in stock and had to make the customers wait longer than the mentioned delivery time to receive their orders, it is a classic case of supply chain inaccuracy.
Poor ratings, losing clients to competitors and additional cost to regain customer loyalty are some of the many dismal consequences of such inaccuracies. An efficient logistics and supply chain management system can shield your business from these potential speed breakers on your progress.
Protection against disruptions –
Did you know, supply chain disruptions can cause about 62% of financial losses? A proper efficient and preferably customized logistics and supply chain management system can help predict and prevent disruptions to keep your business running smoothly and effortlessly.

Effortless transportation management –
Tracking and managing transportation is one of the most difficult phases of the supply chain super structure. Optimum usage of vehicles (prevention of overloading / under loading), mapping the fastest energy and time optimized routes, effective communication through all touch-points till delivery and instant alerts to all involved parties including customers, are tasks that are beyond the scope of manual spreadsheets to achieve.
Automated logistics and supply chain management systems though, can bring the entirety of transportation management to your phone screens making every movement visible and manageable, anytime anywhere.

Preventive maintenance –
The last thing you want in your business is a breakdown at some segment of your supply chain when you are least expecting it. It gets even worse when you are unable to trace where the breakdown has happened, when and how, at the right time. Untimely breakdowns in supply chain can get very expensive because it could lead to complete or partial shut-down of core functions for a few hours or even days.
Preventive maintenance through efficient logistics and supply chain management software however, can help in predicting these failures way before-hand and alert decision makers to take the right actions at the right time.

Competitive Edge –
Given that intelligent automated supply chain management solutions can optimize costs, obliterate possibilities of human errors, predict demands, drive
preventive maintenance, offer real-time bird's eye visibility and enhance supply chain accuracy, it gives users an instant edge in competition especially over the businesses that have not integrated with efficient logistics and supply chain management solutions yet.
Final Thoughts
As per statistics, during 2019-2020, disruptions rose by 14%. This is only one of the reasons why global market for efficient logistics and supply chain system is expected to touch $33.9 billion by 2028 (12.6% CGAR).
Any business that is considering expansion, gaining profits and meeting customer expectations during 2023-2028, needs to be fortified against possible
odds that mark this phase. It is in fact, nearly impossible to sail through supply chain risks of this decade without integrating with automated logistics management software first. Thankfully, accessing high quality, flexible, customizable, easy to maintain and affordable solutions is easy these days with pro-active developers that work closely with small /medium businesses to understand and meet their requirements with tailor-made softwarepackages.
Source:
https://www.zippia.com/advice/supply-chain-statistics/
https://www.imarcgroup.com/supply-chain-management-software-market
https://www.mhlnews.com/global-supply-chain/article/21235538/lack-of-supply-chain-agility-leading-to-company-losses