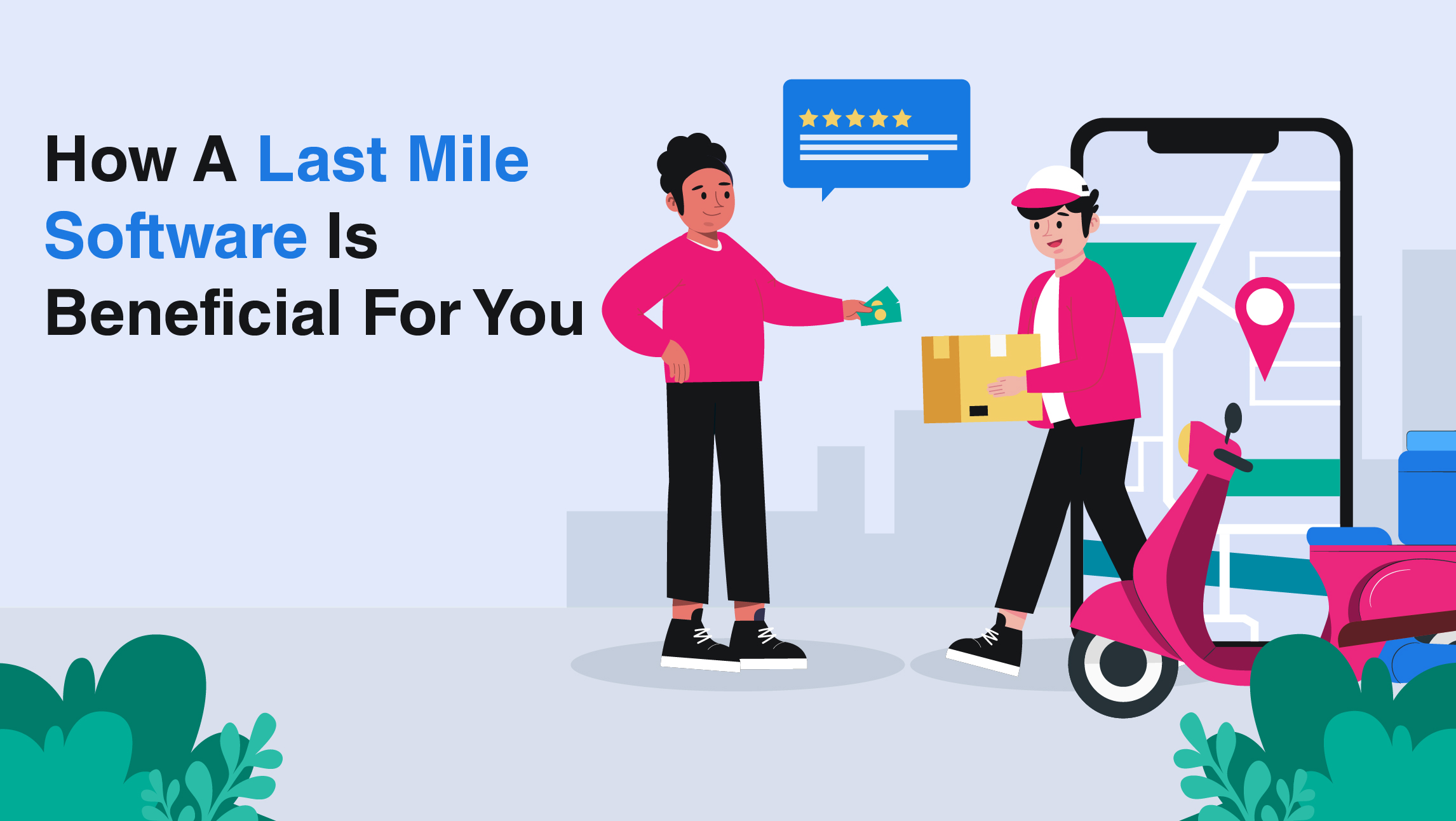 There's a reason why the global Last Mile Delivery Software market boasts an estimated 8.1% CGAR to reach $16.7Bn by 2032. Consuming 53% of overall shipping expenses, it is the fulcrum of exigent cost control that proactive businesses are attempting to cope with following an alarming boost in ecommerce in the post COVID-19 phase. Topped with heightened customer expectations for 24hr-48hr deliveries, low or no shipping charges, free returns and more, streamlining with intelligent automation of last mile has become an urgent necessity.
What Does A Last Mile Software Do?
Did you know – According to 59% of third-party logistics companies in the USA, last mile is supply chain's most inefficient leg.
Why?
Take a look at these statistical figures based on studies conducted on online shoppers globally : -
93% customers want to stay fully informed with updates on their order status and 51% insist on real time visibility of their product journey
73% companies are still struggling to provide real time visibility to customers
84% customers will abandon a retailer after a poor delivery experience
57% customers are reported to believe that final mile, even at its best, is no better than mediocre
53% customers abandon purchases following slow deliveries
93% customers blame retailers for poor / slow / costly deliveries
Given that customers are the kings, and 73.6% believe that delivery is the most important part of their shopping experience, meeting these herculean expectations without automation stands a candle's chance in a cyclone when it comes to succeeding in this overbearingly competitive market.
Needless to mention, the road to consumer satisfaction and retention inherently comes with the plight of –
Extremely high costs that reduce profit margins drastically
Organizational bottlenecks that cause unnecessary delays in delivery
Manual Errors that lead to wrong / damaged deliveries, payment problems etc.
Difficult / costly return logistics, that kills customers' trust and patience
Being caught in the vicious circle of meeting high customer expectations supported meagrely with low performance last mile infrastructure is a sure-shot recipe for disaster. This is where Last Mile Software steps in.
How Does A Last Mile Software Benefit Your Business?
Did You know – Top hundred cities in the world, will experience 36% rise in the number of delivery vehicles by 2030.
Even if your business is not in the core metropolitans, it will not remain uninfluenced by the staggering growth in online ordering and the simultaneous growth in final mile delivery requirements. Therefore, a digitized, streamlined and an intelligently automated approach to last mile management through software solutions is the first step to staying relevant in the current market scenario.
Here is a list of other core benefits of using last mile software solutions that businesses of all volumes literally swear by…
Faultless Flow of Information for Faultless Deliveries –
The last leg of supply chain comes with multiple touch points that are often exposed to unpredictable variables that can compromise efficiency significantly. When managed manually, communication becomes a major issue between these touch points that eventually leads to late / damaged / wrong deliveries or other such SLA breakers. Last mile software helps manage these otherwise scattered processes through a single user interface with one-click automated approach. It gives you the easiest platform to seamlessly communicate, track, record, and follow-up with core processes and backs it up further with alerts, reminders and notifications so that you never miss out on anything.
Trusted Antidote to Costly Human Errors -

To err is human… but erring in last mile will leave a lot of expensive blunders to cry over later. Given that the volume of online ordering is epic high and is least likely to stabilize or come down anytime soon, dependence on manual operational system can only leave the involved team overworked leaving more space for errors that can eventually cost customers. Automated last mile software on the other hand, can manage thousands of orders at
a time literally faultlessly. Therefore, it reduces human dependence, minimizes chances or errors and allows time optimized operations for quicker delivery target achievements.

Cost Optimization Through Strictly Streamlined Deliveries –

Geo fencing, route optimization, fleet efficiency calculators, identification of high density and low- density delivery areas, freedom from paperwork, tapered usage of manpower; new age last mile software systems are structured to streamline costs. With intelligent features as these, last mile software solutions can identify and plug the imperceptible holes in this last leg of the supply chain that eventually reflects in steady increase in cost saving and increased profits.

Competitive Advantage –

With last mile software solutions you can offer an array of value-added benefits to your customers that could give you an instant competitive
advantage over other players in the market that still cling to spreadsheet culture.

For example, last mile software can support…
- Same day / 24hr deliveries
- Customized delivery options
- Multiple payment options with EPOD and more

Real time visibility –
Did you know, 73% retailers are still unable to offer real time tracking to their customers?
Did you know, 83% customers expect accuracy in ETA.
Real time visibility and tracking is not an option any more. It is a necessity. Customers want to know where their product is, who is delivering it and at what time, followed by proof of delivery. Great expectations as these cannot be fulfilled by manual spreadsheets or outdated digitized approach. Intelligent automated last mile solutions are the only way to cater to these requirements.
Makes reverse logistics easy and affordable –
Did you know, over 79% customers expect free shipping with return delivery but only about 49% companies are equipped to offer the same? Ease and affordability in return management is a core factor that helps in winning and retaining customers' trust. If you bulk up returns with added shipping charges, chances are, customers will never buy from you again. If you take too long to have the product picked / replaced / refunded, your customers are as good as gone. Using last mile software solutions is a great way to streamline reverse logistics making it quick and affordable for all involved parties.
Expands domestic and international delivery scope –
Expanding your business by adding more pin codes to your existing delivery map is easy with last mile software. Given that you can now manage fleet / fuel efficiency, identify high and low order density locations, get real time updates of fleet / product movement and enhance customer experience without having to spend a fortune on it; be rest assured, you have a win-win extravaganza when it comes to increasing delivery scope with last mile automation. It can also be a catalyst to buffing the brand image of your business without trying too hard.
Last mile software gives you the extra mile you need to score that extra star in your rating.
And yes, it works. Get in touch with an expert to get started.
Source:
https://deliverbetter.com/blog/25-delivery-statistics-you-should-know
https://webinarcare.com/best-last-mile-delivery-software/last-mile-delivery-statistics/
https://www.cleveroad.com/blog/last-mile-delivery-software/