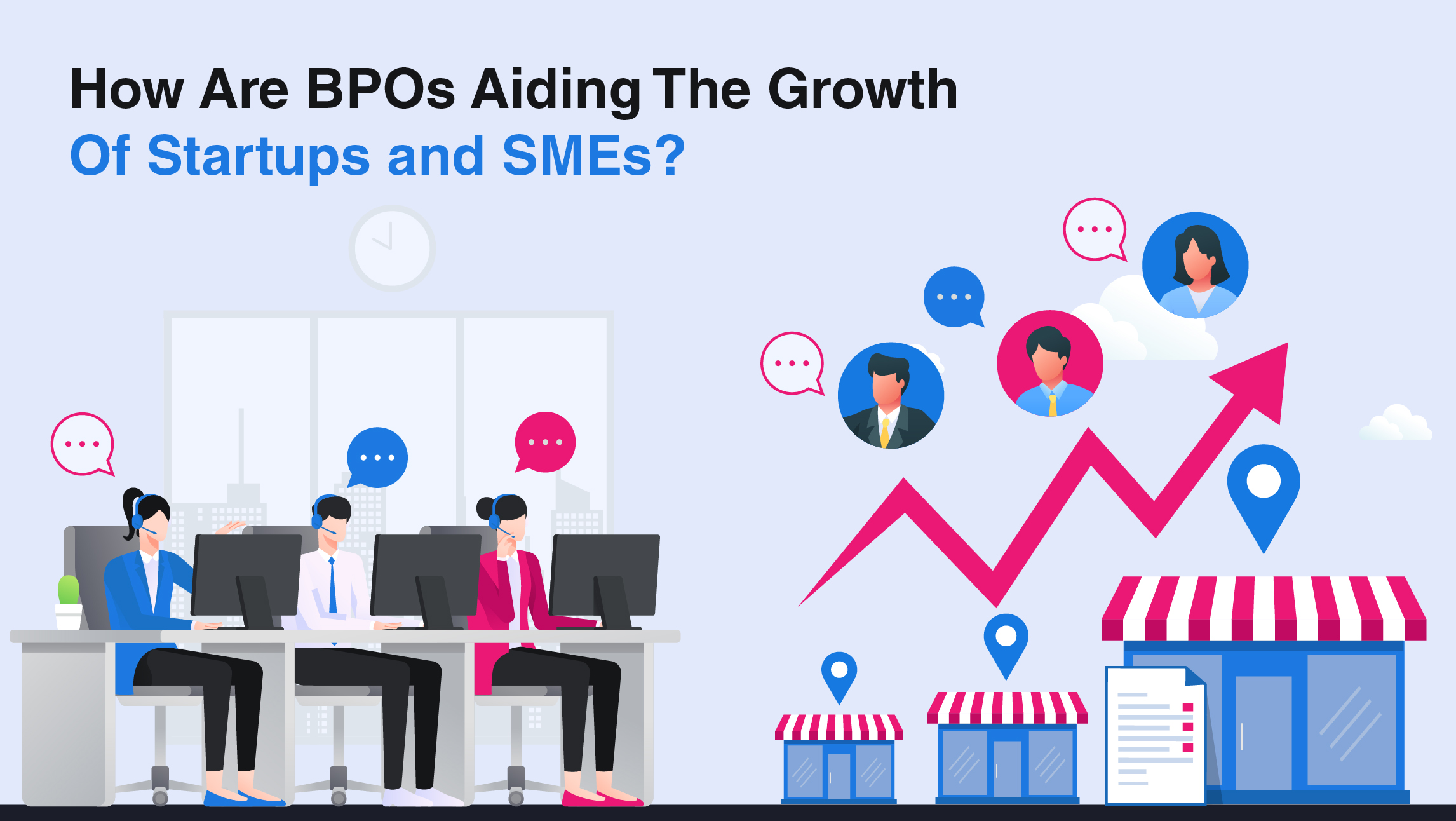 Running a startup with an expanding clientele?
Having a hard time handling customer queries while handling other responsibilities of your startup simultaneously?
Well, it's a typical challenge every small or medium startup owner encounters at the initial stage. The quickest solution to this concern is to outsource customer handling to a BPO company. As an entrepreneur, you must have witnessed the surge in the demand for BPO in the past few years. The estimated valuation of the worldwide BPO sector in 2021 was $245.9 billion. Also, the industry is expected to grow at an annual growth rate of 9.1% in the present decade. Overwhelming, right? Of course, there are concrete reasons behind the skyrocketing expansion of the BPO industry. In fact, these are the reasons why you must hire a BPO company to support your startup's growth. This blog will unravel these solid reasons elaborately. So, read on to know further.
Reduced Margin of Error
SMEs mostly rely on their in-house teams and that increases the possibility of errors. The customer support executive you have hired may get overburdened by too many customer queries. That not only impacts their productivity negatively but also makes them frustrated. In such a scenario, your startup's overall customer service quality deteriorates drastically, which you surely don't expect. Your executives won't be able to resolve the queries of clients as efficiently as they are expected to. On the contrary, outsourcing customer handling to a BPO actually lessens the flaws in customer service. BPO companies usually have a wide pool of representatives and that's why hiring them is the best choice for SMEs.
Round-the-clock Customer Support
Most BPO companies offer 24-hour services to startups and organizations. It's a definite plus for your startup's growth if your customers can reach out to the
customer service team at their convenience. They will feel more inclined to availing your services or purchasing your product. It will eventually boost your
startup's preferability, giving you an edge over your competitors.
Lower Operational Costs
Hiring a bulk number of customer service executives on your own would cost you much higher than the price quoted by a BPO company. BPO companies not only provide you with a higher service bandwidth but also operate at reasonable costs. That's why they are preferred over individual hiring.
Proficient Experts Do The Job Better
When you hire a BPO company, you don't settle for less in terms of customer servicing. A reputed BPO company hires the best brains out there to offer
cutting-edge customer service assistance to its clients. The representatives working for the BPO company you hire are going to attend to your customers better than your in-house executives on any given day. Most importantly, you won't have to monitor the customer service quality as you hire an established BPO service provider.
Flexibility Is The Add-On
You can hire a group of in-house customer service executives to attend to customers for the time being. But what about when your startup scales up rapidly? Would it be easy for you to hire more skilled executives on short notice? This issue doesn't arise as you outsource customer handling to a BPO company.
BPO companies ensure the flexibility to scale up and scale down their services based on the changing requirements of your startup. They can do that because
they usually have wide networks of expert customer service associates. No matter how fast your startup scales up, the BPO company you're hiring will scale up its customer services accordingly.
Multichannel Support
Why not try different customer support channels to secure better customer satisfaction? Your startup will gain the trust of more and more customers as you
activate multiple customer support channels for them to reach your team. BPO companies usually offer email support and chat support options besides on-call support. That's why hiring them will benefit your startup significantly.

You can't help acknowledging that BPOs play a pivotal role in the growth of SMEs and startups. Reading this blog so far must have made you understand why
BPOs are so important for startup growth. If you own a startup and are finding new ways to handle customer queries, don't waste your time. Give the
aforementioned points a thought and hire a reliable BPO service provider out there to pace up your business's growth.