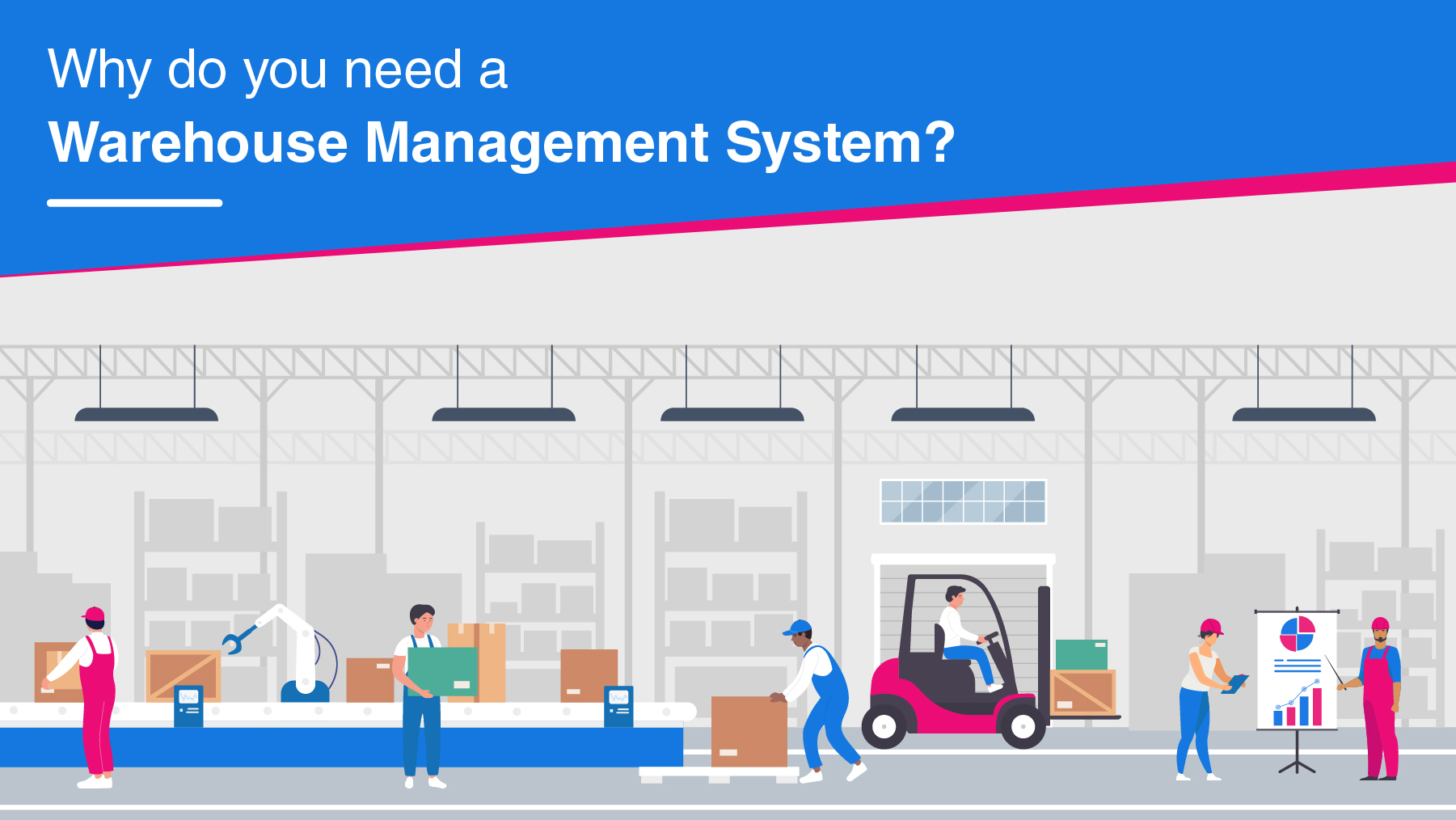 Imagine converting one of the most tedious, time consuming, erroneous and expensive supply chain processes into an instant profit driver! That's exactly what WMS, warehouse management systems are designed to do.
Warehousing is tough. Top it with the advancements in the broad e-commerce spectrum in the 21st century like…
Omnichannel selling
Upsurge in B2B, B2C and D2C businesses
Rising supply chain costs like fuel, freight, work-force etc.
Heightened customer expectations like 24hr delivery, free shipping, delivery flexibility
… it's nothing less than a battle against potential losses, competition and customer retention that you're fighting every single day!
What's the Remedy? - WMS!
Warehouse management system is basically a software setup, that helps integrate and automate all core warehousing processes at macro and microscopic levels. From receiving bulk consignments at checkpoints to delivering individual units of products to customers at their doorstep, WMS is responsible for maintaining a seamless, faultless flow of information to speed-optimize, process-optimize and cost-optimize the cycle till successful delivery is made.
What You Should Expect to Experience
When you integrate with latest WMS technology you will experience instantly expedited processes with lesser dependence on man-power. You can track and store critical details in the automated system which makes the tiring process of physical book-keeping and manual process handling blissfully obsolete.
Why Do You Need A Warehouse Management System?
Benefits You Cannot Oversee - It's not just about easy stock control and tracking. WMS can in fact, transform this rather tedious, labor dependent and expensive process to an instant profit booster.
Based on user experience, here are the top reasons why WMS is not an option anymore, but an urgent necessity…
Effortless, error free operations – Imagine a room full of thousand files and scanning through a million pages to tally operational actions month after month in a warehouse. Imagine, the overwhelming number of professionals that need to work with 100% manual efficiency to prevent expensive slips.

WMS automates core operational processes reducing it to no more than a few clicks. From AS/RS and Voice picking / tasking to AGVs, Automated Sortation Systems, barcode scanners and more; all technologies applied towards physical or digital automation of your warehouse processes can be integrated, streamlined and optimized in a single interface.

With WMS, it will take only a click to assign tasks, update / retrieve reports, track and trace inventory movement and seamlessly connect with every other leg of supply chain faultlessly.

Tangible operational cost reduction – With the greater part of your tasks automated, you will be free of additional workforce to handle processes manually. Businesses have saved as much as 40% of their operational costs with WMS.

Business Growth - Tasks that took days to complete would require only a few seconds with WMS. This frees ample time to focus on business expansion including extension of delivery range, maximizing order handling capacity and allowing free / 24hr shipping to beyond core areas.

Nothing goes missing with 100% visibility – WMS gives you bird's eye view of your multi / omnichannel warehouse operations in any device of your choice from any location in the world at any time you choose. A click is all it takes to get updated, real-time status of your warehouse endeavours. In simple words, with automation, nothing is ever out of your sight.

Quick onboarding of new work-force – Before automation, businesses used to spend weeks in training new workers / supervisors / managers to blend them into the complex ongoing workflow resulting in very expensive downtime. With WMS, it takes but a couple of days because, it requires only a few clicks to understand the processes and retrieve data surrounding the same.

Improved customer experience – WMS is the key to agile and flexible warehousing in this demanding century that is overwhelmed with millions of online purchases made every minute. Top WMS are designed to toe customer expectations to the last word by supporting extended benefits like –

24hr shipping / free delivery
Advanced shipment notifications
Real-time order tracking
Delivery flexibility
Easy and no-cost returns etc.

When customers are happy, your business stays ahead in competition.

Billing management – Integrated billing management features in WMS help in tracking and storing accurate data of all activities in a warehouse that requires billing. More advanced WMS are powered with automated audit support systems as well.
Final Thoughts – Busting WMS Myths
The 21st century has seen the rise of many small and medium businesses, many of which still rely upon the conventional means of warehouse management thinking that it is a more cost-effective option for them. But, is it?
Time to bust a few myths surrounding WMS!
Myth 1: WMS is only for Large Businesses / Retail – No. WMS is compatible for small and medium scale businesses also. If you have seen home businesses growing to become well known D2C brands; somewhere, there is WMS to thank.
Myth 2: WMS is expensive – State-of-the-art WMS never comes dirt cheap. This does not mean that it is out of your reach. Top companies offer customizable WMS where you only pay for what you use. These solutions are flexible too, which makes it possible for you to add more features as your business grows.
Myth 3: WMS is complicated – On the contrary. WMS uncomplicates processes. If you are worried about the integration part; it is usually carried out by the providers with 24/7 customer support.